Doesn't Aloo Gobi and Rotis make a terrific combination? Since my first Wadi dish, Wadis have also become a favorite, hence adding Wadis to Cauliflower and Potatoes happened sooner than later! The dish turned out be lot tastier than I had expected. Added jaggery because the dish was a little spicy, and the jaggery made the dish tangy with a slight sweet taste.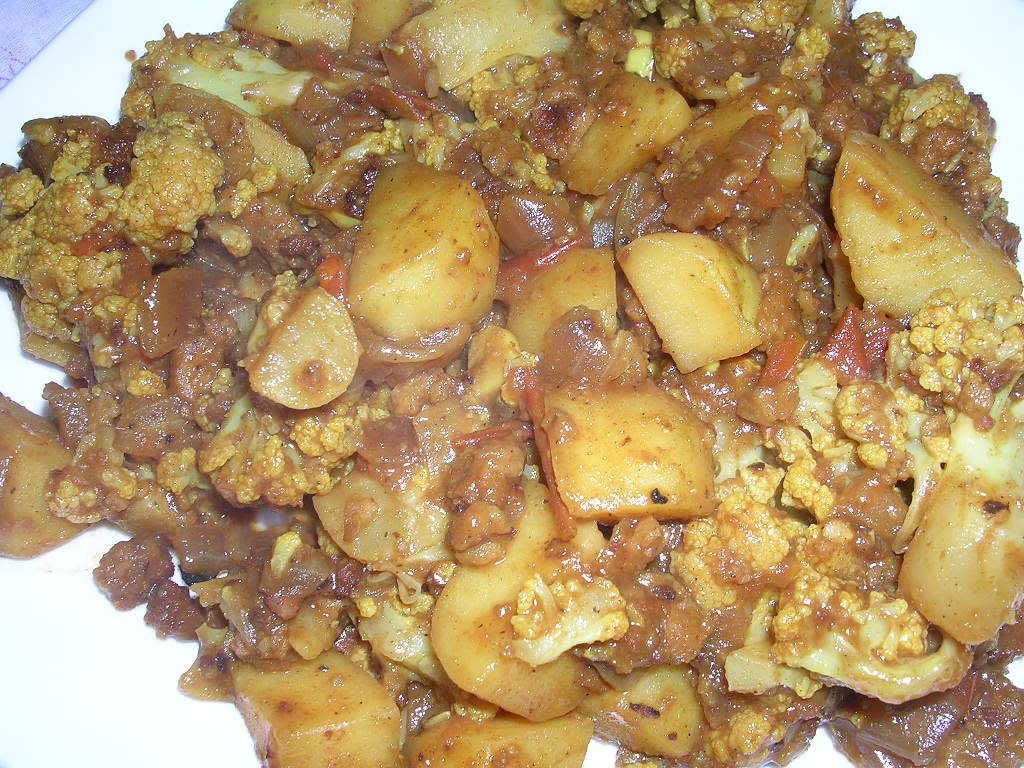 Ingredients
1. 4-5 Wadis crushed
2. 10 Baby Potatoes cut in four
3. 1 Cauliflower
4. 1/2 Red Onion Chopped
5. 2 Tomatoes chopped
6. 3 garlic cloves chopped
7. ¼ inch ginger grated
8. 1/4 Cup Tamarind pulp
9. 1/2 tbsp Corriander powder
10. 1 tsp Cumin powder
11. 1/2 tbsp chilli powder or Sambhar Powder
12. 1 Tbsp Jaggery
13. Oil
Method
1. In a pan heat oil, add the Wadis and fry till they turn brown and
2. Add the onions and saute till they are translucent
3. Add the garlic and ginger and saute for a few more minutes
4. Add the tomatoes and saute for a few more minutes
5. Add all the powders and mix well
6. Add the Potatoes and saute for a minute or two.
7. Add a tbsp of the tamarind pulp and cook for a few minutes, keep adding the tamarind pulp little by little as the potatoes dry out.
8. When the potatoes are 1/2 cooked add the cauliflower and the rest of the tamrind pulp, and a half cup of water and salt.
9. Cover and cook till the cauliflower and potatoes are cooked through.
10. Remove the lid add the sugar and saute till all the liquid has evaporated.
Serve with rotis.