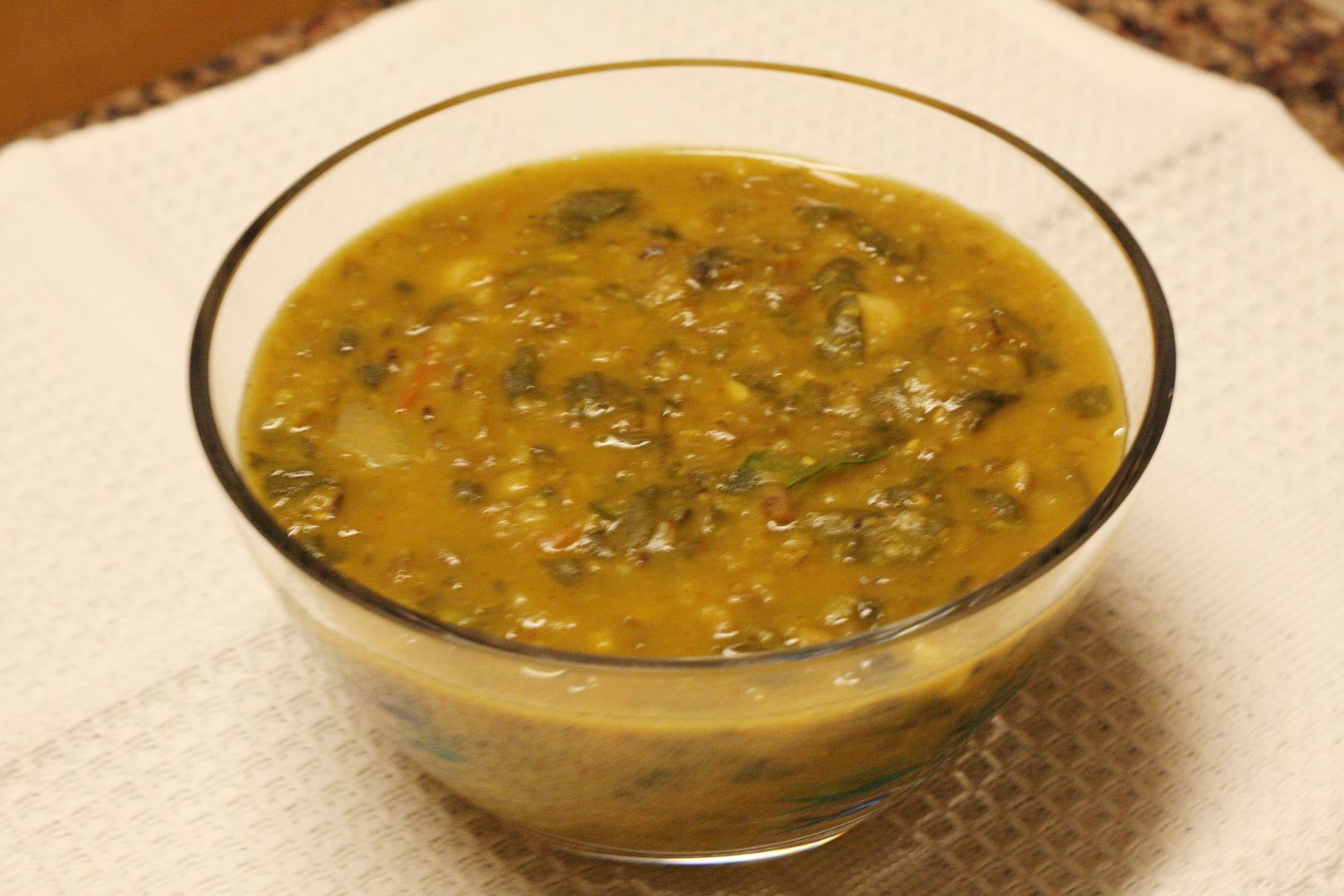 This is another recipe garnered from the lunch room. Where I came from paruppu(mashed dals) is cooked toor/moong dal lightly seasoned with onions, green chilies, mustard seeds and curry leaves. Eaten with rice generally with a spicy/tart puzhikuzhambu on the side. Just across the border in Andhra I have learned exists a huge variety of paruppu or pappu as they call it and are generally cooked with different kinds vegetables or greens. Vegetables/greens and dal are cooked together with green chilies, tomatoes or tamarind, onions and garlic and lightly mashed and seasoned. This opens up a whole new array of dals to dazzle the pallette. One of my lunch room buddies rents a room from an aunty and lucky for her the aunty cooks great food and packs it for her.
One day was this aromatic spinach dal which was absolutely delicious. She had made it with toor dal. I have tried with both toor and moong and my preference is toor dal.
Andhra style Spinach Dal
Ingredients
1. 2-3 cups of fresh spinach washed and chopped coarsely
2. 1 cup of moong dal or 1 1/2 cups of toor dal
3. 3 tbsp of chopped shallots or red onions
4. 3-4 green chilies (I did not have any)
5. 4 garlic cloves minced
6. 1/2 tbsp of sambhar powder (if adding green chilies skip or reduce)
7. 1 medium tomato chopped (or 1 tbsp of tamarind pulp)
8. 1 tsp of methi powder (roasted and powdered methi seeds)
9. 2 tsp of turmeric powder
10. salt to taste
11. 1 tsp of sesame oil
12. seasonings: ghee, mustard seeds, cumin seeds and curry leaves

Method
1. In a pressure cooker add the dal, spinach, onions, tomato, green chilies, garlic, sambhar powder, turmeric powder along with 3 cups of water and cook for 2-3 whistles
2. Mash the dal gently and set it on low flame. Add more water if too thick and let it come to a boil (Do not over cook just gently heat for a couple of minutes if not adding extra water)
3. In a small pan heat the ghee and add the seasoning and pour over the dal and sprinkle the powdered methi powder on top. Add salt and turn of the heat

Goes best with rice.