Let me let you in on a gossip, keeping sambhar powder handy a tasty curry is never too far. If you do not have sambhar powder handy feel free to use red chili powder. Tomatoes give a slightly sour and moist feel to the curry you, leave it out if you do not want it.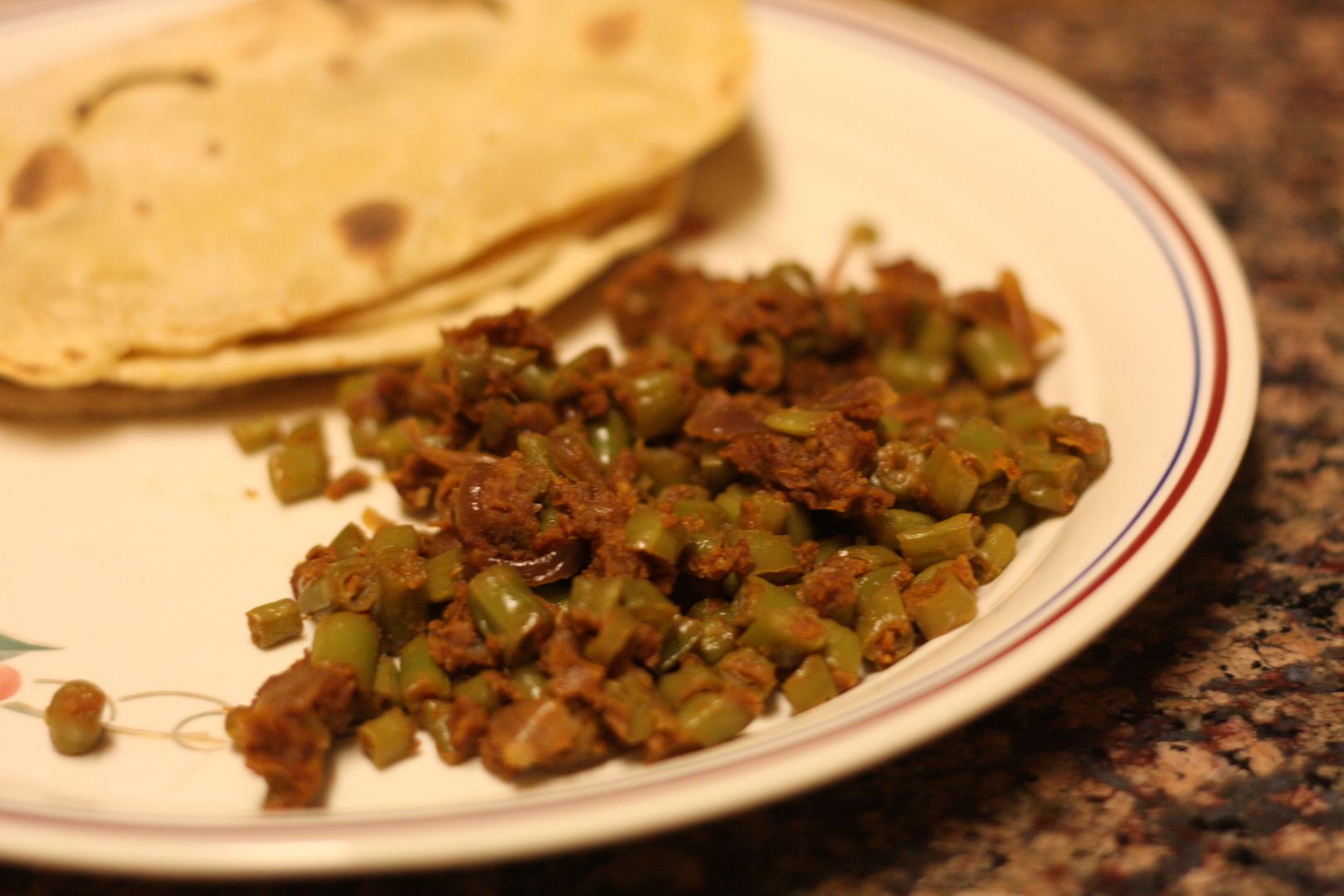 Green beans with besan
Ingredients
1. 2 cups of green beans chopped
2. 1/2 cup of finely cut onions
3. 1 tbsp of grated ginger
4. 3 slightly tart tomatoes chopped (or + 1/2 tbsp amchur powder)
5. 1 tbsp sambhar powder
6. 2 tbsp besan
7. 1 tsp ajwain
8. seasonings: cumin seeds, curry leaves, mustard seeds
9. salt to taste

Method
1. In a wide mouthed pan add a few drops of oil along with besan and roast till it becomes golden color, set aside to cool
2. I a pan heat oil and add the seasonings and ajwain, let the mustard seeds splutter
3. Add in the onions and let it turn translucent
4. Add the sambhar powder and saute for a second
5. Add the tomatoes and cook till they turn mushy
6. Now add in the beans and salt, saute for a few minutes and if required add a 1/4 cup of water, cover the lid and let it cook for 8-10 minutes till the beans are soft
[Here it depends on personal choice if you like the beans to be crunchy cook for a little less time if you like it softer cook for a bit longer)
6. Open the lid and let the water evaporate completely
7. Sprinkle in the roasted besan and let it coat the beans, add another tsp of oil at this stage and saute for 4-5 minutes till well roasted

Serve as a side for rice or chapathi.