Corriander Chutney (sauce )
Condiments
Ingredients
1/4 cup lemon juice
1/4 cup water
1/4 lb coriander stems & leaves; washed, coarsely chopped
1/4 cup onion; finely chopped
2 tablespoon ginger root; finely chopped
2 teaspoon chilli, red, hot; chopped
1 teaspoon sugar, granulated
1 teaspoon salt
1/4 teaspoon pepper, black
Directions:
Cooking Dhanya Chutney (Fresh Coriander Sauce)
Combine lemon juice, water and 1/2 cup coriander in blender; blend at high for 30 seconds until pureed.
Add 1/2 cup coriander. Repeat until all the coriander has been pureed. Add onions, ginger, chili, sugar, salt and pepper. Blend again.
When perfectly smooth, taste and add more sugar or salt if desired.
Serve immediately or keep tightly covered in refrigerator up to 1 week.
Mint-Corriander Chutney


Ingredients

Mint leaves – 1 cup
Dhania leaves – 1 cup
Green chillies – 3
Tamarind – Just a little
salt – As appropriate
Method:

Grind all ingredients together.
Mix 1 spoon lemon juice with ingredients
This chutney is good with bread slices, samosas, pakodas. ( pakoras ) , papadums and rice
Tamarind sauce Chutney

Ingredients:
1 cup cleaned tamarind 1/2 cup dates deseeded 1/4 cup sugar 2 cups water 1/2 tsp. red chilli powder 1/2 crushed cumin seeds 1 tsp salt 3/4 cup jaggery
METHOD:
Wash the tamarind clean. Place the tamarind, jaggery, sugar, dates and water in a deep boiling pan. Soak for a few minutes. Put to boil for about 7-8 minutes. Cool to room temperature. Blend in a mixie till smooth. Strain and transfer to the pan again. Boil till thick enough to coat the back of a spoon thinly. Add the seasoning. Cool again. Store in clean airtight bottles and refrigerate.
Makes: 2 1/2 to 3 cups.
Mango chutney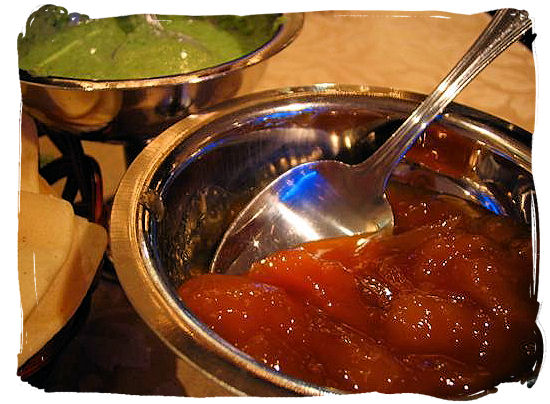 INGREDIENTS
1 tablespoon vegetable or other light flavoured oil
2 teaspoons finely grated fresh ginger
2 cloves garlic,
crushed 1 red chilli,
finely sliced 2 teaspoons nigella seeds
1 teaspoon ground coriander
½ teaspoon ground cumin
½ teaspoon ground turmeric
¼ teaspoon ground cardamom ¼ teaspoon ground cloves ¼ teaspoon ground cinnamon 4-5 mangoes, slightly under ripe, peeled and chopped (1kg chopped weight)
1½ cups (330g) caster sugar 400ml white vinegar salt, to taste NOTE: Makes approximately 4 jars.
METHOD
Heat the oil in a large saucepan over a medium heat. Gently cook the ginger, garlic and chilli for 1 minute. Add the spices and cook for a further minute. Add the remaining ingredients and bring to the boil. Reduce the heat and simmer about 1 hour until the chutney has reduced, thickened and become jam-like. Add salt to taste. Pour chutney into sterilised jars. Seal the jars and allow the chutney to cool completely, store refrigerated.
What is chutney ?
A chutney (British spelling) or chatni (Urdu, Hindi, Bengali or Tamil transliteration) is a term for a variety of sweet and spicy condiments, originally from the Indian subcontinent. Chutney, as a genre, is often similar to the salsa of Latin American cuisine, or European relish insofar as it usually involves a fresh, chopped primary vegetable/fruit with seasonings added, to be used as a condiment for another food.
Chutney may be dry or wet; dry chutney is generally in the form of powder. In India, a chutney is often made to be eaten fresh, using whatever suitable strongly flavoured ingredients are locally traditional or available at the time. It would not normally contain preserving agents, since it is intended to be consumed soon after preparation. The Hindi translation of "to make chutney" is a common idiom meaning "to crush". This is because the process of making chutney often involves the crushing together of the ingredients.[citation needed]
The use of a stone chutney maker is often regarded as vital to create the ideal chutney. It is a small stone bowl (called a "kharal" or "khal" in Hindi), or a flat piece of stone (called a "sil") on which the ingredients are crushed together with a rounded stick of stone or wood (called a "batta", pronounced with a hard 't').
Chutney is more familiar in North America and Europe in a form that can be stored. To this end, vegetable oil, vinegar, or lemon juice are used to enhance the keeping properties.