Kaara pori is a very very simple snack but very tasty and fulfilling. With a bowl of this pori and a thriller novel in one hand time just flies. The addition of the garlic makes it special, used to hunt for the tasty roasted garlic pieces. Grandma added Mor Mizhakai – Chillies in Butermilk so there was nothing to be tossed or thrown out.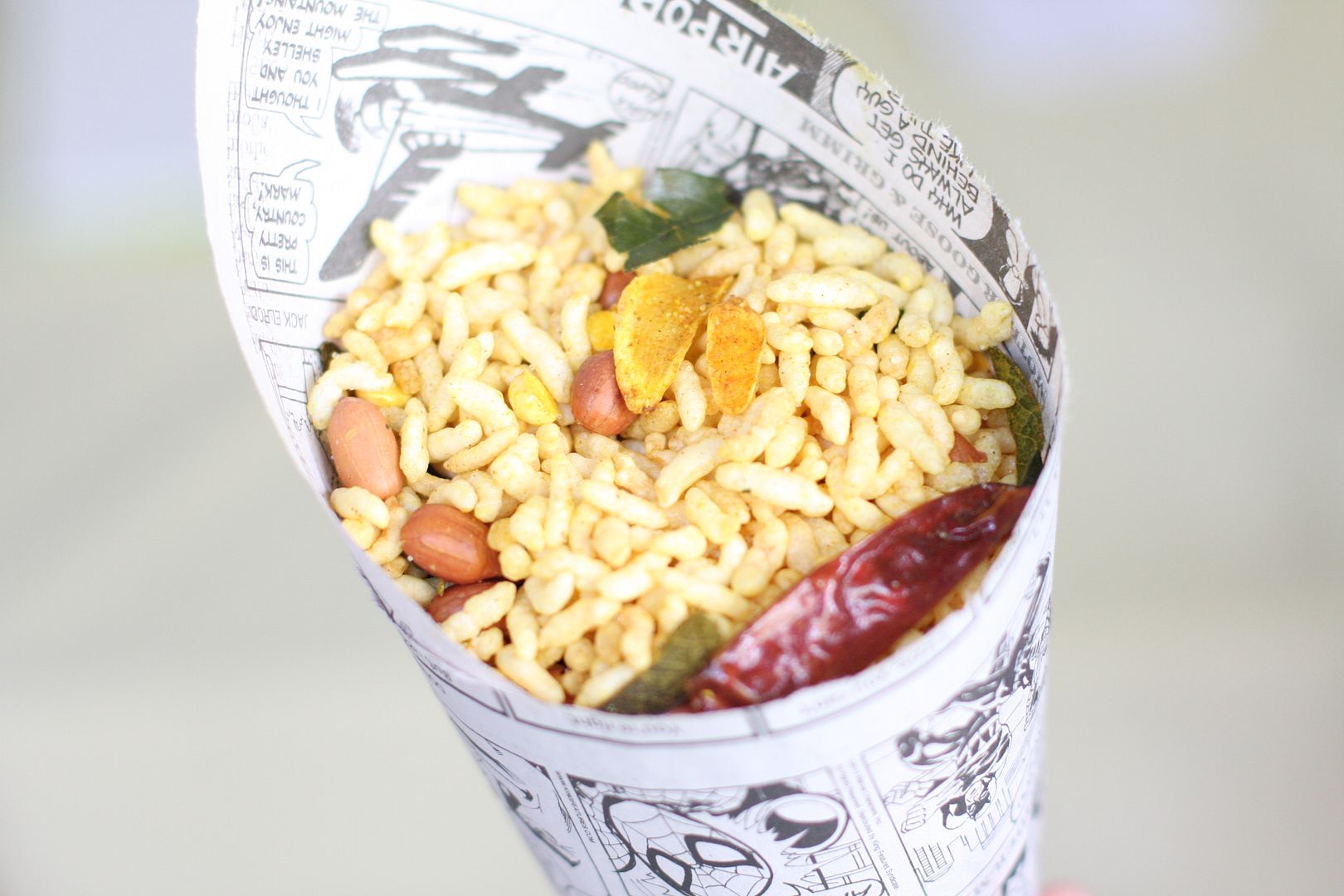 Kaara Pori – Spiced Puffed Rice Snack Preparation Time:10 minutes Cooking Time: 20 minutes Ingredients
1. 4 Cups of Pori (Puffed Rice)
2. 1/2 Cup of Aval (Poha or Beaten rice) – optional
3. 1/4 cup of Pottu Kadalai (Roasted Dalia)
4. 1/2 Cup of roasted peanuts
5. 2 tbsp Split Urad Dal
6. 6-8 Cloves of garlic sliced thin
7. 2 Dry Red Chillies split and deseeded
8. 1 tsp of mustard seeds + 1/2 tsp of cumin seeds
9. few sprigs of curry leaves
10. 2tsp turmeric powder
11. 1 1/2 tsp Chilli powder (or as per taste)
12. 1 tsp of salt
13. 2 tsp of oil or ghee

Method
1. Take a Kadai or a big mouthed pan, heat oil ( I also added a little bit of ghee) and when it is hot
2. add the urad dal and fry till they start to turn brown, add the cumin seeds and mustard seeds and curry leaves, when they start to splutter
3. Add the garlic and saute for a few minutes, now add the chilli pieces
4. Add the Aval and saute for about 8-10 minutes till they are roasted and not hard to bite on, but this time the garlic should be completely roased
5. Add the dalia and peanuts and the powders + salt and saute for a few more minutes
6. Now add the Puffed rice and roast till they are crunchy and the spice powders are coated about (8-10 minutes).
There a wonderful healthy tasty snack. Store in an airtight container. Lasts for a week.